Besides the collaboration we are setting up with the Slovenian Chemical Society in publishing a thematic issue of Acta Chemica Slovenica dedicated to young researchers, we have organised a week full of events for students in the fields of chemical and other similar sciences.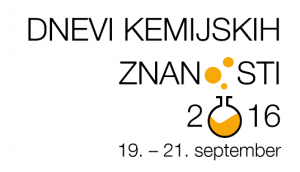 "Dnevi kemijskih znanosti 2016" (Days of chemical sciences 2016) included a poster conference of Chemical sciences doctoral students (Book of abstracts is available on this link), public popular science lectures, presentation of research activities at the Faculty of Chemistry and Chemical Technology of University of Ljubljana and a Science Incubator (PROGRAMME), where novel ways of how to get a scholarship or a research starting grant were presented.
Best poster prize has been split between Matija Gatalo and Miha Virant and the third place prize awarded to Jure Cerar. The winning posters are available on the links.
Below you can find the photos from the event (photographed by Luka Rifelj).
To enlarge, click on the thumbnail.
Invalid Displayed Gallery
Much research, new friends, such wow!
Save
Save
Save
Save
Save
Save
Save
Save
Save
Save
Save
Save
Save
Save
Save